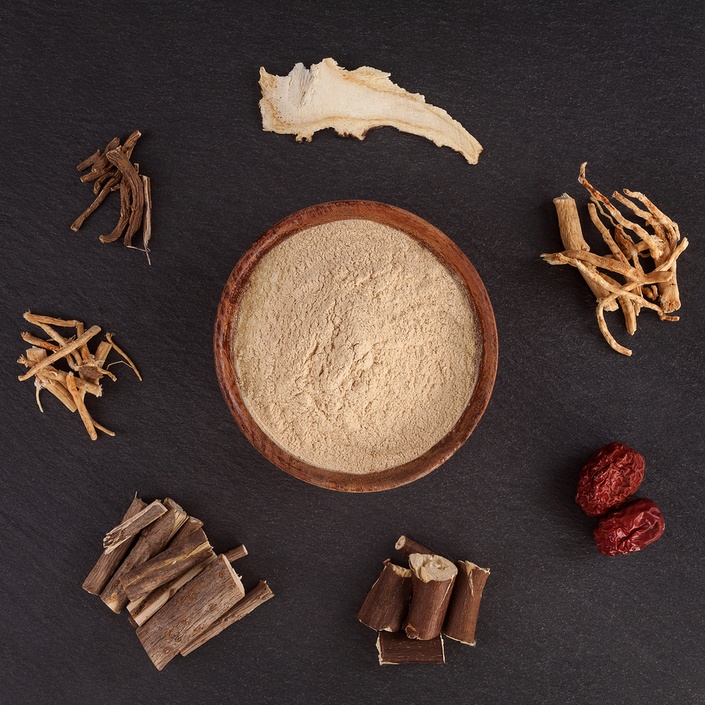 Ashwagandha
Build Your Strength and Expand Your Consciousness
Build strength and expand your consciousness with Ashwagandha
---
This king amongst rasayana (rejuvenators) bestows excellence in health, supports spiritual consciousness, and a strong foundation for our reproductive tissues and fertility. Spirituality and sexuality are commonly understood as opposite ends of the spectrum, and one may wonder how one herb can be used in both areas of our life. Listen to Acharya Shunya speak about the sacred Ashwagandha and how a wider, more balanced vision of health is possible. Rather than limiting Ashwagandha's aphrodisiac properties to superficial and ephemeral libido enhancement or other quick fixes, we now have the opportunity to learn how it promotes overall well-being and vitality. Chef Sanjai's delightfully creative recipes with Ashwagandha open up so many new possibilities in the kitchen.


A Tradition Worth Carrying Forward
Continuing to empower people in the tradition of health consciousness through connection with nature, self care, eating right, and therefore building health, Acharya Shunya and Chef Sanjai bring each class alive with history, wisdom and tasteful cooking.


Acharya Shunya's great grandfather Bade Baba and grandfather Baba were spiritual teachers, who imparted knowledge for a healthy lifestyle through Ayurveda, and to realize our spiritual potential through wisdom from the Vedas. During their time, India's rural population faced many challenges due to colonial rule and were impoverished economically and culturally. Baba would send his students to teach the villagers about locally growing herbs to awaken their health in simple yet profound ways. By sharing this ancestral wisdom in a community that wishes to awaken and embrace their right to be healthy by connecting to nature's gifts, Acharya Shunya continues the tradition of her family.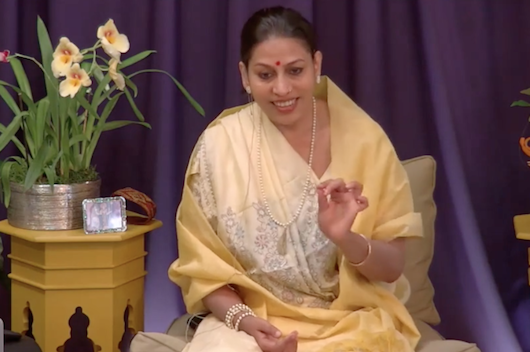 No matter what symptom you are going through, believe in health - this deep, life-affirming teaching by Baba is the foundation for her teachings.


Many a time, we read a list of benefits for some food and feel like incorporating it into our diets. But that is only one part of the knowledge. Here is an opportunity to gain deeper insights and connect with the plant. Knowing when and how to eat, what to choose for the seasons is the wisdom that the ancient people shared with us. Ayurvedic traditions share a profound understanding of how to align with the energies of nature and its gifts. Traditional regimens based on science and observations have the power to support a sustained healthy and joyful life.


Ayurveda's deep and subtle understanding of the body explains how our body's tissues are created. Amongst them, shukra is not only responsible for sexual organs and fertility but is the foundation for the essence called ojas - which is related to our vitality, immunity, creativity and longevity. Ayurveda's wisdom of lifestyle, diet and herbs shares how proper nourishment and metabolism through the chain of tissue transformation leads to a healthy experience of life. Ashwagandha's amazing qualities support healthy shukra in a balanced, happy way, leading to enthusiasm, clarity, cheerfulness, and a pleasant state of mind.


It is renowned as an adaptogen and an agent that is anti-inflammatory, anti-fatigue and which promotes strength, vitality, immunity and fertility. No wonder it is recommended as a healthy way to compensate for age-related bio losses. By resting and stabilizing the body which then leads to restful sleep, it helps with sleep disturbances. This is in contrast to other substances that knock out the mind by inducing dullness or tamas.


This winter, take Ashwagandha in special recipes to build strength for the rest of the year. Did you know that its leaves can be used for weight loss, detoxification and purification and its roots can help to nourish you?


Just as this divine herb enhances our life force, we can help to grow Ashwagandha too and thus be joyful co-participants in the grand cycle of life!



In depth knowledge about ashwagandha, taught directly from sacred Ayurveda texts such as: Charaka Samhita, Bhavaprakash, Susrut Samhita.
A lively class, taught in a holistic and systematic manner, that effectively delivers a comprehensive understanding, led by best selling Ayurveda author, and Vedika Global wisdom school founder, Acharya Shunya.
Step-by-step, guided recipes, direct from ancient texts, tested and designed for contemporary living, demonstrated by our passionate Ayurveda Master Chef Sanjai.
A printable, practical in-home remedy and recipe guide, to add to your very own Ayurveda resource library.
Enhance Your Wellbeing Naturally With Ashwagandha
A regimen to overcome fatigue, low immunity: Explore these simple yet powerful ways to support your health with a daily intake of Ashwagandha. Invite it into your life to suit your needs, perhaps over a year - this winter to next winter, or just during winter.
Low back pain relief: Learn how to alleviate this condition through a supportive protocol with Ashwagandha.
Reproductive system health: Specific usage of this powerful herb can help with erectile dysfunction, prevention of miscarriages and leucorrhea.
And many more...
Recipes
Chef Sanjai, head of Vedika's unique Ayurvedic teaching kitchen, shows some delicious recipes with creative uses of Ashwagandha.
A tonic for the nerves and restful sleep: A tonic for the nerves and restful sleep: Learn how to cook Ashwagandha with milk and aromatic spices. The original recipe does take time, evoking a lifestyle which reminds you how important it is to nourish yourself. It can be adapted if you are in a rush.
Power Laddoos: Watch and make these delightful spheres of goodness with delicious ingredients. They are a great snack for travel, to support children's growth, and to help improve strength and stability. They impart healthy Kapha and support healthy bones and muscles.
Fig and Ashwagandha laddoos: This combination is just wonderful as a snack, especially if someone is gluten intolerant. Find out how to roll these health giving, energy filled sweets.
Winter power pancakes: Those with a strong digestion, appetite and active lifestyle will benefit greatly from these power packed pancakes. They can help you to gain strength, and support your body's needs for athletic endeavours. Drizzle with honey or maple syrup making it a great snack, especially for growing children.
Enjoy the learning journey with a knowledge enhancing class format


Welcome and Introduction to the Vedic Ancestral Lineage of Acharya Shunya
Discussion of Concept of Ojas including Overview of Rasayana Chikitsa (26:19)
Overview of Ashwagandha's Cultural and Spiritual Significance (55:25)
Overview of Medicinal Attributes of Ashwagandha in Ayurveda (59:45)
Overview of Patent Wars (1:39:54)
Discussion of Growing and Harvesting Ashwagandha (1:40:27)
Overall Profile of Ashwagandha (1:51:32)
Questions and Answers About Ashwagandha (1:58:32)
Cooking Demonstration of Recipes with Ashwagandha (2:06:49)
Your Instructors
Benefit from ancient wisdom and years of authentic lived experiences by our teachers.

Experience an intimacy and deeply personal experience with the Ashwagandha plant and our teachers. As a result of their deep wisdom, personal passions and embodiment of Ayurveda lifestyle, the delivery is authentic and from the heart, leaving you feeling connected to Mother Nature, her gifts of wellness and your own innate capacity to self-heal.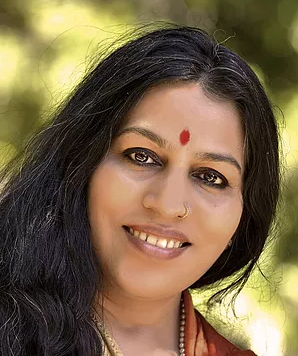 Acharya Shunya is an extraordinary teacher and author of the living wisdom of Ayurveda. She is a traditional Vedic lineage holder and founder of Vedika Global, former President of the California Association of Ayurveda Medicine and teaches at the California Institute of Integral Studies and complementary medicine symposiums at Stanford, UCLA, and UCSF. Acharya Shunya's latest book, "Ayurveda Lifestyle Wisdom" is a bestselling book on Amazon.com.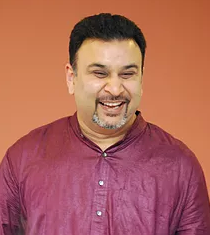 Chef Sanjai is the head of the Ayurveda cooking department at Vedika Global and serves on the Board of Vedika Global. He teaches over 200 original recipes inspired by ancient Ayurvedic source texts, based on the science of the healing potency and potential of the ingredients used in the healing Ayurvedic recipes.
A class loved by all:



I feel so blessed for having learnt about ashwagandha. The plant is easy to grow and has required little maintenance. I live near the site of some of the terrible northern California fires and have noticed that it can even handle the toxic air that has decimated some of my other flowers. The laddoos are easy to make and wonderful to keep on hand. I take them with me when I travel or have an uncertain schedule, so I can take care of my digestion in a variety of situations. Ashwagandha is a delicious additive to my winter milk recipes and, while drinking the milk, I love thinking of all of its benefits.
- Nalini Ramji
Tomales, California