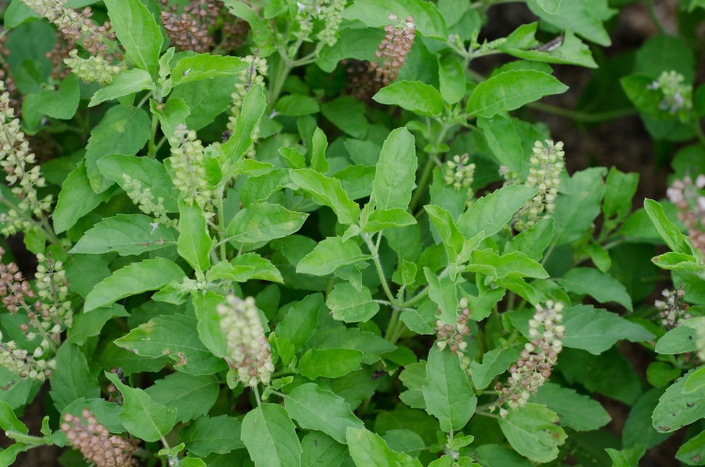 Tulsi
Clear Up Colds and Coughs, Prevent Cavities and De-Stress

Transform your body and mind with Tulsi
---
Immerse yourself in this in-depth and interactive class on Tulsi or Tulsi-ji ("ji" symbolizes respect in Indian culture) as taught by Acharya Shunya from her ancient oral lineage tradition. Tulsi has been revered and respected in India for millenia. Urban and rural homes have Tulsi growing in courtyards and placed by their spiritual altars, due to the calming effects on the mind, rejuvenating effects on the body and anti-microbial qualities that cleanse the environment. Today, studies have proven that Tulsi can improve dental health, normalize blood pressure, improve cognitive function and boost immunity. Explore how you can enjoy these and other benefits. Learn transformative Tulsi recipes and remedies through this course, as you discover what makes this gift from Mother Nature so remarkable.


Led by Acharya Shunya, this class is unique as a result of her spiritual lineage, personal experiential knowledge and approach to Ayurveda as a "lifestyle". Born in a family of healers that lived by Ayurvedic principles and taught by her grandfather who was a renowned Vaidya (Ayurveda healer), Acharya Shunya has a lifetime of experience, further strengthened by her practice and teaching. Her spiritual lineage and knowledge of the sister sciences of Vedanta and Yoga, provide additional value, leaving you with an integrated view of how to live a well balanced, healthy, happy life.


Acharya Shunya's authentic style, sharing of captivating stories, and systematic approach, allows for the knowledge to be easily learned and incorporated into your life. Moreover, the class is taught in an intimate and unique immersive style from an ancient tradition called gurukulum, which evokes an immediate heartfelt connection with the Tulsi plant. The recipes are delicious, from Tulsi hummus to heart warming Tulsi tea. Master Chef Sanjai's culinary expertise and natural passion for Ayurveda comes alive in this class, motivating the viewer to get started on their healing journey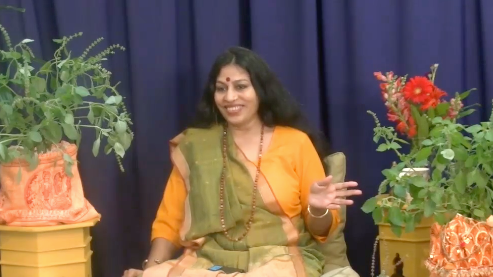 Embark on this enlightening journey that reveals the healing wonders, divine significance and purity of Tulsi. Be inspired and excited to integrate Tulsi - nature's adaptogenic, into your everyday life!

In depth knowledge about Tulsi and how to detoxify your body, boost your metabolism and keep stress-related diseases at bay, taught directly from sacred Ayurveda texts such as: Charaka Samhita, Bhavaprakash, Susrut Samhita.
A lively class, taught in a holistic and systematic manner, that effectively delivers a comprehensive understanding, led by best selling Ayurveda author, and Vedika Global wisdom school founder, Acharya Shunya.
Step-by-step, guided recipes, direct from ancient texts, tested and designed for contemporary living, demonstrated by our passionate Ayurveda Master Chef Sanjai.
A printable, practical in-home recipe guide, to add to your very own Ayurveda resource library.
Enhance your wellbeing naturally with Tulsi
Gain optimal health and begin to build a reverential and everlasting relationship with Ayurveda. Acharya Shunya's teaching style is authentic and powerful; she embodies and lives Ayurvedic wisdom. Infused with deep expertise, the recipes, rituals and practices are powerfully taught in a way that will remain with you for years to come.


Get started today and benefit from the following and many more home remedies:
No more pimples: Reduce inflammation (pimples) with a therapeutic black pepper and tulsi leaf paste.
Mother Nature's Mouthwash: Gargle with Tulsi and warm water, and effectively reduce plaque and prevent gingivitis.
Nature's band-aid: Infected wet wounds are healed with fresh Tulsi leaves.
Cure your cold: With a warm Tulsi, ginger and honey concoction, you can clear your nasal passages and chest.
Pain reduction: Reduce inflammation caused by deep headaches and toothaches with Tulsi
Break the fever: Honey, Tulsi and Black Pepper, act as a fever reducing agent. Best used at the onset of the fever.
Calm your mind: Soothe yourself from daily mental stress, with Tulsi.
Nature's Adaptogen: Improve metabolism, cleanse yourself of environmental and chemical stressors and recover from physical fatigue with Tulsi.
Enjoy the learning journey with a knowledge enhancing class format


Introduction to the Vedic ancestral lineage of Acharya Shunya and overview of Tulsi
Discussion of uses of tulsi leaves
Discussion of external uses of tulsi
Discussion of internal uses of tulsi
Teaching of the tulsi mantra
Demonstration of tulsi recipes
Your Instructors
Benefit from ancient wisdom and years of authentic lived experiences by our teachers.

Experience an intimacy and deeply personal experience with the Tulsi plant and our teachers. As a result of their deep wisdom, personal passions and embodiment of Ayurveda lifestyle, the delivery is authentic and from the heart, leaving you feeling connected to Mother Nature, her gifts of wellness and your own innate capacity to self-heal.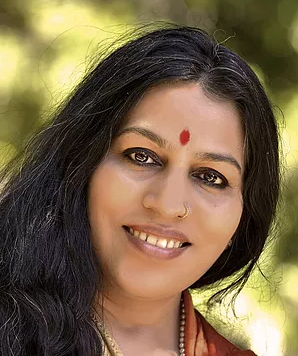 Acharya Shunya is an extraordinary teacher and author of the living wisdom of Ayurveda. She is a traditional Vedic lineage holder and founder of Vedika Global, former President of the California Association of Ayurveda Medicine and teaches at the California Institute of Integral Studies and complementary medicine symposiums at Stanford, UCLA, and UCSF. Acharya Shunya's latest book, "Ayurveda Lifestyle Wisdom" is a bestselling book on Amazon.com.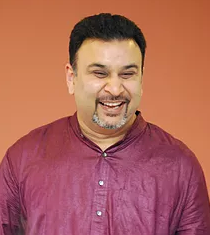 Chef Sanjai is the head of the Ayurveda cooking department at Vedika Global and serves on the Board of Vedika Global. He teaches over 200 original recipes inspired by ancient Ayurvedic source texts, based on the science of the healing potency and potential of the ingredients used in the healing Ayurvedic recipes.
A class loved by all:


I've been feeling stressed, due to life transitions specifically with regard to career changes, family responsibilities and aging. As a result, my mind has been feeling scattered and overwhelmed. Even meditation seems unfruitful. Watching the Tulsi video was transformative. Building a deep relationship with Tulsi ji and understanding more about the healing properties was informative. So...I tried making Tulsi tea- I started by asking the leaves to aid in opening my mind and giving me clarity Sipping the tea and making a ritual for myself (for 7 days) - has not only aided my mind, but also energized me, improved my digestion and supported my meditation as well. Truly grateful - thanks Tulsi ji! - Gautam


I didn't know anything about Tulsi before taking this class. It was sweet to hear Acharya Shunya call it Tulsi ji, and that the soil it is planted in becomes holy, where the roots lie. Tulsi gives Life; taken on a regular basis, it helps to protect us. I have made the cough syrup recipe twice and it is very soothing on the throat. It was a beautiful class. - Sakshi