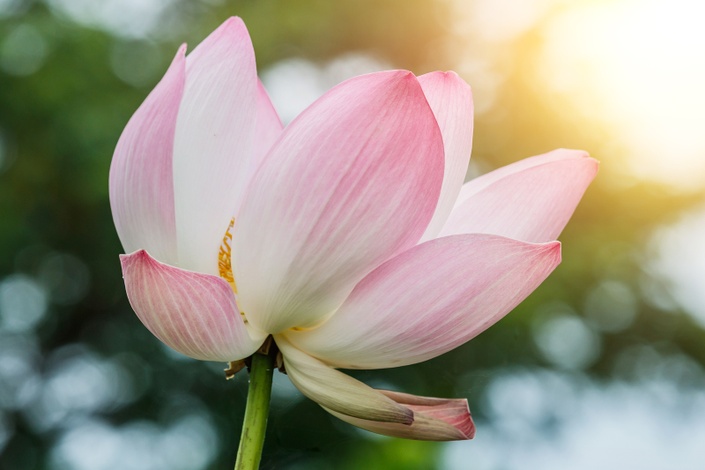 Lotus Flowers
Cool Down Your Whole Being

Cool Your Entire Being with Lotus
The Lotus flower, held sacred in many cultures is a symbol for purity, hope, rejuvenation and abundance. In Hinduism, the unfolding Lotus flower is symbolic of a spiritual awakening. The Lotus flower rising from the mud denotes spiritual expansion and personal growth, shows an ability to open up to one's beauty, radiance and potential despite challenges or unconducive environments. From stem to stamens, the entire Lotus flower serves as a cooling and purifying agent, nourishing and purifying the blood, calming the mind and soothing the skin.

This class is rich with home remedies that utilize the leaves, stamens, and root to improve a variety of health conditions. Lotus can aid with digestive disorders, heat exhaustion, insomnia, neuropathic pain relief, sleep, as an aphrodisiac and to refresh the mouth. This class serves as an invitation to cleanse, calm and balance yourself from the inside out. In addition to the powerful healing capacity of the Lotus, learning about the spiritual significance of the flower, leaves you feeling inspired to transform and live in authenticity.

The class is packed with a wealth of knowledge, delivered in a systematic and easy to follow manner, by Acharya Shunya. Born in a family of healers that lived by Ayurvedic principles, taught by her grandfather who was a renowned Vaidya (Ayurveda healer), Acharya Shunya has a lifetime of experience, further strengthened by her practice and teaching. Continuing in her lineage's tradition, she truly embodies the philosophy and lives it everyday. Her stories, remedies, anecdotes and case studies offer a truly unique experience.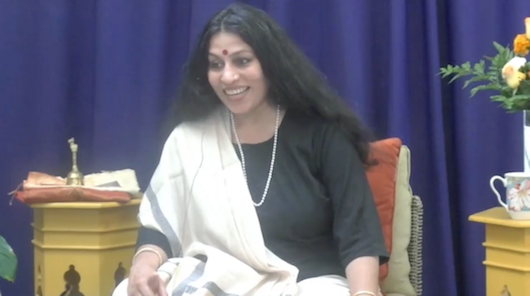 The recipes are simple to follow and delicious. They teach you how to use the lotus as a natural and therapeutic coolant in a summer / early fall menu. Ayurveda master chef Sanjai's style is effortless as is his culinary expertise and natural passion for integrating traditional ingredients in today's cuisine.

Unique in delivery, the class is taught in an intimate and unique immersive style from an ancient tradition called gurukulam. This format creates space for a lively class discussion, guided by a presentation and imagery thus allowing for learning to happen in a natural, experiential manner. Acharya Shunya's spiritual lineage and knowledge of the sister sciences of Vedanta and Yoga, provide additional value, leaving you with an integrated view of how to live a well balanced, healthy, happy life.

Take this in-depth journey and welcome a cooler, calmer way of living, with Lotus in your life.



In depth knowledge about Lotus and how to cool your body, calm the digestive system, cleanse the circulatory system and keep stress-induced headaches away, taught directly from sacred Ayurveda texts such as: Charaka Samhita, Bhavaprakash, Susrut Samhita.
A lively class, taught in a holistic and systematic manner, that effectively delivers a comprehensive understanding, led by best selling Ayurveda author, and Vedika Global wisdom school founder, Acharya Shunya.
Step-by-step, guided recipes, direct from ancient texts, tested and designed for contemporary living, demonstrated by our passionate Ayurveda Master Chef Sanjai.
A printable, practical in-home remedy and recipe guide, to add to your very own Ayurveda resource library.
Timeless Wisdom for Total Transformation
Gain optimal health and begin to build a reverential and everlasting relationship with Ayurveda. Acharya Shunya's teaching style is authentic and powerful; she embodies and lives Ayurvedic wisdom. Infused with deep expertise, the recipes, rituals and practices are powerfully taught in a way that will remain with you for years to come.


Get started today and benefit from the following and many more home remedies:
No more migraines: Reduce inflammation and cool down your brain with an effective Lotus home remedy.
Nature's coolant: Learn to use Lotus effectively to overcome the chronic or occasional problem of sunstroke.
Nature's balm: Rashes caused due to excessive heat in the body, such as eczema, are healed by Lotus! Learn how!
Nerve pain relief: Neuropathic nerve pain, can be reduced, and mobility enhanced with Lotus therapy. Check out how!
Nature's sleep aid: Lotus can relax and soothe your mind too, ensuring the sweetest of dreams. Learn the exact home remedy.
No more mouth ulcers: An ancient Lotus recipe can aid in healing and refreshing the mouth. Check out how!
Soothe the stomach ache: Learn a recipe to help absorb excess heat and calm chronic diarrhea. It works!
Spider bite relief: Believe it or not, Lotus is an amazing antidode in spider poison. Learn how!
Enjoy the learning journey with a knowledge enhancing class format


Introduction to the Vedic ancestral lineage of Acharya Shunya
Philosophical and Historical Representation of the Lotus (21:07)
Overview of the Lotus (30:11)
Properties of the Lotus (40:05)
Using Lotus as Ayurvedic Medicine (1:17:07)
Cooking demonstration of Summer Lotus Curry Rhizome with Onions (2:09:50)
Your Instructors
Benefit from ancient wisdom and years of authentic lived experiences by our teachers.

Experience an intimacy and deeply personal experience with the lotus plant and our teachers. As a result of their deep wisdom, personal passions and embodiment of Ayurveda lifestyle, the delivery is authentic and from the heart, leaving you feeling connected to Mother Nature, her gifts of wellness and your own innate capacity to self-heal.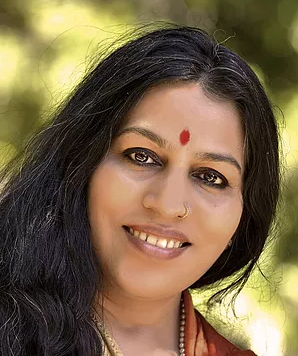 Acharya Shunya is an extraordinary teacher and author of the living wisdom of Ayurveda. She is a traditional Vedic lineage holder and founder of Vedika Global, former President of the California Association of Ayurveda Medicine and teaches at the California Institute of Integral Studies and complementary medicine symposiums at Stanford, UCLA, and UCSF. Acharya Shunya's latest book, "Ayurveda Lifestyle Wisdom" is a bestselling book on Amazon.com.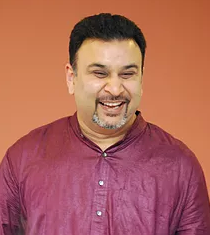 Chef Sanjai is the head of the Ayurveda cooking department at Vedika Global and serves on the Board of Vedika Global. He teaches over 200 original recipes inspired by ancient Ayurvedic source texts, based on the science of the healing potency and potential of the ingredients used in the healing Ayurvedic recipes.
A class loved by all:



The lotus always seemed such an exotic plant, not one I ever thought to have in my yard. After Acharya Shunya's class on the many medicinal uses of the lotus, I now have a lotus plant and it has been thriving for over a year. From the class I learned that by making a simple lotus tea from the petals or leaves relieves the body of heat (pitta disturbance). So many healing qualities of this beautiful plant that represents abundance now lives in my home.
- Sakshi Joanne Banuelos
San Jose, CA



I am a caregiver for my mother. We have tried medicines and ointments for neuropathic pain. After viewing this video, I was deeply inspired and made a healing oil with warm sesame oil, and lotus root (rhizome). I have been applying that on her legs, lower back and hands, for about 2 weeks. Yes, pain and tingling are present - but intermittent relief IS beginning to appear. My mother's mobility has improved and she reports that the "intensity of the tingling is less". What is truly magical is the joy and energy she is experiencing in addition to improvement with her health. I can see Lotus and the Universe conspiring to heal my mother. Thank you Shunyaji and Sanjaiji for this video and helping us!
- Omkara Gautam Mulchandani
San Francisco, CA