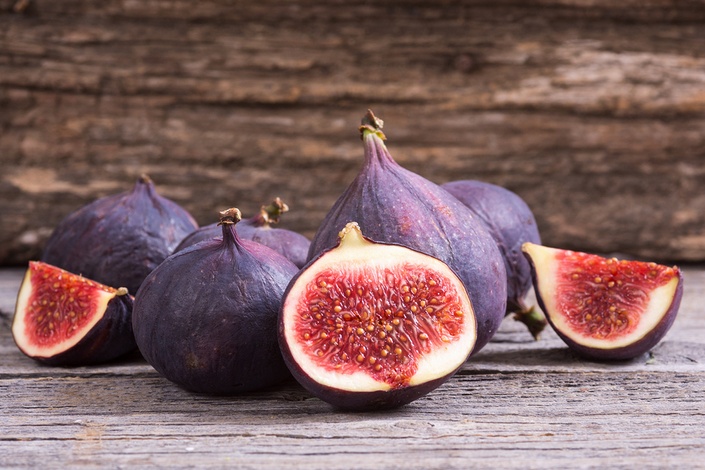 Figs
An All-Natural Laxative and Revitalizer

An All Natural Laxative and Revitalizer
---
The fig is called Majjala in Sanskrit, and aptly so, because this wondrous gift from Nature, nourishes and strengthens the foundation of the body's nervous system at a very deep level. It is highly regarded in many ancient cultures. In Ayurveda, it is one of the foods that build the shukra body tissue - responsible for fertility and reproduction in males and females.


Not only is the fig considered to be an aphrodisiac because it promotes sexual health, but it is remarkable in that it increases sattva - the quality of mental balance, calmness, luminosity and clarity. A fruit that can be consumed every day in seasonally appropriate recipes, it offers us a host of long term benefits.


A Tradition Worth Carrying Forward:
Acharya Shunya and Chef Sanjai have revealed this amazing fruit's cornucopia in this beautifully evocative class, rich with traditional ancestral knowledge and detailed applications. Acharya Shunya's great grandfather Bade Baba and grandfather Baba were traditional vaidyas - healers, who lived and spread the knowledge of health and wellbeing to the people in their communities. At that time, India 's rural population faced many difficulties due to colonial rule and were impoverished economically. Baba would send his students to teach the villagers about locally growing herbs to awaken their health in simple yet profound ways. By sharing this ancestral wisdom in a community that wishes to awaken, embrace their right to be healthy and connect to nature's gifts, Acharya Shunya continues the tradition of her family.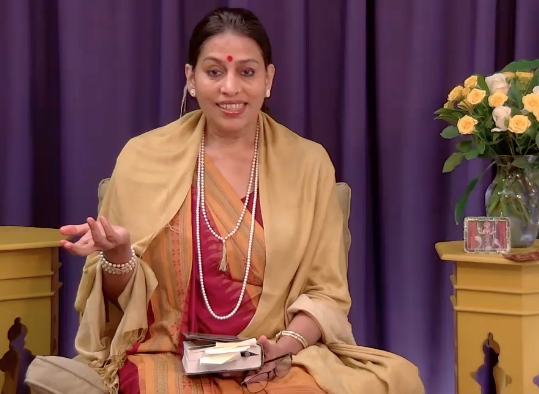 The fig is a treasure trove of healing abilities. Did you know that the fig fruit is actually an inverted flower encapsulated in a covering? Acharya Shunya elucidates the amazing symbiotic relationship between the fig and its environment, and its Ayurvedic pharmacological properties to explain the application in many areas.


The spiritual lessons and insights from her understanding and connection with nature enable us to see the deeper truth that these divine foods embody. Her gentle sense of humour enlivens the class and lends to the sense of the ease with which she teaches.


Grow Your Own Medicine:
Growing these plants and contributing to their welfare and propagation leads to a closer connection and deeper healing of body, mind and consciousness. This is a move away from a consumerist culture where these plants and their parts are simply consumed without reverence or a thought for their future.

In depth knowledge taught directly from sacred Ayurveda texts such as: Charaka Samhita, Bhavaprakash, Susrut Samhita.
A lively class, taught in a holistic and systematic manner, that effectively delivers a comprehensive understanding, led by best selling Ayurveda author, and Vedika Global wisdom school founder, Acharya Shunya.
Step-by-step, guided recipes, direct from ancient texts, tested and designed for contemporary living, demonstrated by our passionate Ayurveda Master Chef Sanjai.
A printable, practical in-home remedy and recipe guide, to add to your very own Ayurveda resource library.
Enhance Your Wellbeing Naturally With Figs
Highlights of the class and what you will learn:
Gentle and Natural relief from constipation: Learn to make a healthy Fig drink that will help you to regularize your elimination, and at the same time build strength in your body.
Overcome debility: This recipe combines some rich nourishing ingredients along with fig to overcome weakness in the body and mind. It has been carefully crafted with suggestions on when to consume, so that it will not burden your system.
Afternoon energizer: The laddoos (dessert balls) with fig and complementary food ingredients are a perfect way to get that boost of energy in the afternoon.
Spread deliciousness: This chutney made with fig and choice ingredients is a perfect relish with other main course items such as rice, quinoa, chapatis or barley pearls. This chutney not only enhances taste but improves digestion.
Nourishing creaminess: Learn a delicious recipe -a dream come true- that will nourish the foundational tissues of the nervous system (Majja) and fill you with cooling satiety in the hot Fall season.
Enjoy the learning journey with a knowledge enhancing class format


Introduction to Fig
Introduction to the Vedic ancestral lineage of Acharya Shunya (00:03:51)
Overview of Fig (00:09:31)
Discussion of health benefits of Fig (00:14:23)
Discussion of nourishing quality (pushtikar) of Fig (00:29:05)
Discussion of bowel regulation quality of Fig (00:39:00)
Discussion of nutritional composition of Fig (00:50:00)
Discussion of blood/liver cooling property of Fig (00:53:22)
Discussion of sexual health and fertility benefits of Fig (01:03:58)
Discussion of chronic cough treatment with Fig (01:07:51)
Discussion of Fig leaf tea (01:11:32)
Discussion of additional benefits of Fig (01:14:18)
Discussion of Fig fruit biology and ecology including cultivation (01:17:58)
Demonstration of Fig recipes (01:30:57)
Your Instructors
Benefit from ancient wisdom and years of authentic lived experiences by our teachers.

Experience an intimacy and deeply personal experience with the Tulsi plant and our teachers. As a result of their deep wisdom, personal passions and embodiment of Ayurveda lifestyle, the delivery is authentic and from the heart, leaving you feeling connected to Mother Nature, her gifts of wellness and your own innate capacity to self-heal.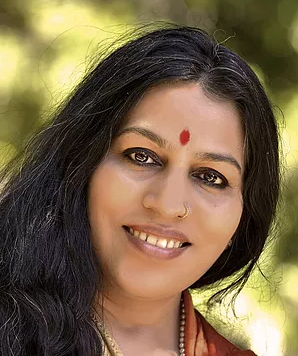 Acharya Shunya is an extraordinary teacher and author of the living wisdom of Ayurveda. She is a traditional Vedic lineage holder and founder of Vedika Global, former President of the California Association of Ayurveda Medicine and teaches at the California Institute of Integral Studies and complementary medicine symposiums at Stanford, UCLA, and UCSF. Acharya Shunya's latest book, "Ayurveda Lifestyle Wisdom" is a bestselling book on Amazon.com.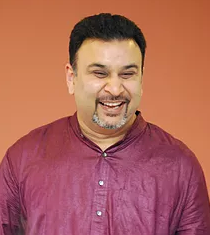 Chef Sanjai is the head of the Ayurveda cooking department at Vedika Global and serves on the Board of Vedika Global. He teaches over 200 original recipes inspired by ancient Ayurvedic source texts, based on the science of the healing potency and potential of the ingredients used in the healing Ayurvedic recipes.
A class loved by all:



This class encouraged me to relate with food & medicine in a new way. I began to form a relationship and an appreciation for the fig plant. I have to say, my mindset towards Ayurvedic herbs was largely of "What can they do for me?" So I fell in love with Mandukaparni & Ashwaghanda & Turmeric, but only for what they can do for my own self. A shift came around when I took this class, & I witnessed the beauty of the plant. This class turned figs from something I knew little about in something of a childhood friend. A sweet smile forms on my lips everytime I see a fig tree, or even a dried fig at a friend's house. I found a few fig trees on my walk to work, & I have begun to sing & chant Gayatri to them. My parents now grow a fig tree. I too now grow a fig tree. I have to say this class brought about a huge transition in my ability to appreciate plants and living beings.
- Shreyas Derek Cousineau
Oakland, CA



I loved the amazing story of how figs are propagated via the relationship with wasps, its use as a blood purifier, all its incredible health benefits, and that it is okay to use with milk. After this class, I started off eating a fig a day when figs were in season, and then the pattern lapsed when fig season was over and I needed to get dried figs. However, I have made the fig smoothie, the fig cream spread and the fig chutney...all were incredibly yummy!
- Karen Schneider
Oakland, CA



We grow several varieties of fig at our home in Australia - I now know how to use them beyond fresh eating. Knowing when to harvest fresh figs and how to prepare dried figs is invaluable. A fig a day will keep debility at bay! The delicious recipes provided by Acharya Shunya and Chef Sanjai are simple to prepare and will help me nourish my family, my friends and me!
- Uma Melanie Estarziau
Alameda, CA