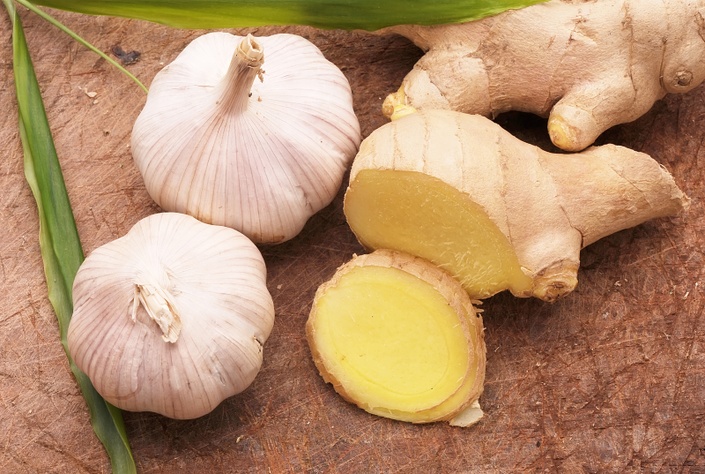 Garlic and Ginger
Your Pain-Relieving and Digestion-Promoting Friends

Enhance your metabolism and remove toxicity with Ginger & Garlic
---
Immerse yourself in an in-depth and interactive class on Ginger and Garlic as taught by Acharya Shunya from her ancient oral lineage tradition. Discover the subtle differences between dry and fresh ginger, along with remedies that fortify the body, strengthen your digestion, and remove toxicity. Be amazed by the simple yet effective tips as you learn how to use these two gifts from Mother Nature to promote vitality via optimal digestive and circulatory health.


Led by Acharya Shunya, this class is unique as a result of her spiritual lineage, personal experiential knowledge and approach to Ayurveda as a lifestyle. Her Ayurvedic wisdom is as extensive as it is deep, and her spiritual lineage and knowledge of the sister sciences of Vedanta and Yoga, provide additional value, leaving you with an integrated view of how to live a well balanced, healthy, happy life.


Acharya Shunya's authentic style, sharing of captivating stories surrounding her own experiences with ginger and garlic, and personal firsthand experience with ancient Ayurvedic herbal wisdom, allows for the knowledge to be easily learned and incorporated into your life. Moreover, the class is taught in an intimate and unique immersive style from an ancient tradition called gurukulum, which evokes an immediate heartfelt connection with the subject matter. Master Ayurveda Chef Sanjai's recipes are delicious and easy to follow. His culinary expertise and natural passion for Ayurveda leave you inspired to transform and embark on a journey of self-healing.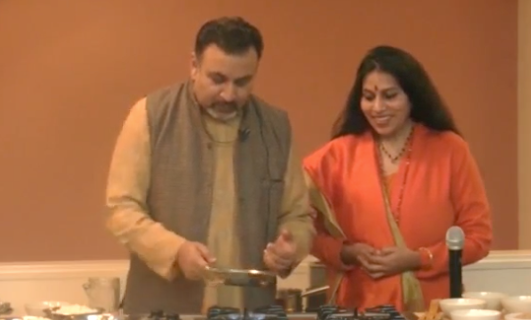 Take this magical, in-depth journey with Ginger and Garlic. Learn how you can start feeling more active, lighter and re-energized, while you develop a deeper appreciation for the wisdom of Mother Nature as revealed by the science of Ayurveda.



In depth knowledge about Ginger and Garlic and how to detoxify your body, boost your metabolism and keep age related diseases at bay, taught directly from sacred Ayurveda texts such as: Charaka Samhita, Bhavaprakash, Susrut Samhita.
A lively class, taught in a holistic and systematic manner, that effectively delivers a comprehensive understanding, led by best selling Ayurveda author, and Vedika Global wisdom school founder, Acharya Shunya.
Step-by-step, guided recipes, direct from ancient texts, tested and designed for contemporary living, demonstrated by our passionate Ayurveda Master Chef Sanjai.
A printable, practical in-home recipe guide, to add to your very own Ayurveda resource library.
Enhance your wellbeing naturally with Garlic and Ginger
Gain optimal health and begin to build a reverential and everlasting relationship with Ayurveda. Acharya Shunya's teaching style is authentic and powerful; she embodies and lives Ayurvedic wisdom. Infused with deep expertise, the recipes, rituals and practices are powerfully taught in a way that will remain with you for years to come.


Get started today and benefit from the following and many more home remedies:
Brighten your skin: Reduce skin inflammation (pimples) with a therapeutic ginger and turmeric paste.
Calm an upset stomach: Mix ginger powder with soothing buttermilk to reduce abdominal bloating and diarrhea.
Relieve joint pain caused by osteoarthritis: Reduce pain and regain mobility with ginger and Ashwagandha. Relieve muscle stiffness with a homemade ginger paste.


FRESH GINGER

Relieve constipation: Improve your metabolism with a simple fresh ginger and rock salt remedy.
Cure your cold and cough: Heal yourself with an immunity boosting elixir of ginger root, cinnamon and cloves.


FRESH GARLIC

Relieve nerve pain: Rejuvenate your nervous system and eliminate deep tissue inflammation as a result of toxicity.
Enhance your circulation: Stimulate the heart, boost your stamina and re-energize your circulation with fresh garlic as part of your daily cooking.
Enjoy the learning journey with a knowledge enhancing class format


Introduction to the Vedic ancestral lineage of Acharya Shunya
Overview of ginger
Discussion of dry ginger for cold relief
Discussion of dry ginger for pain relief
Discussion of fresh ginger for digestion
Overview of garlic
Discussion of garlic for heart health
Demonstration of Shunthi Ladoo recipe
Your Instructors
Benefit from ancient wisdom and years of authentic lived experiences by our teachers.

Experience an intimacy and deeply personal experience with the Neem tree and our teachers. As a result of their deep wisdom, personal passions and embodiment of Ayurveda lifestyle, the delivery is authentic and from the heart, leaving you feeling connected to Mother Nature, her gifts of wellness and your own innate capacity to self-heal.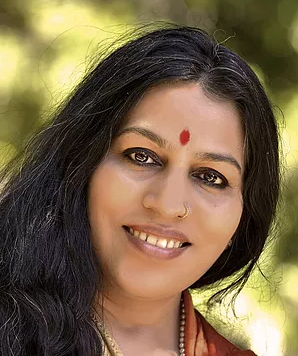 Acharya Shunya is an extraordinary teacher and author of the living wisdom of Ayurveda. She is a traditional Vedic lineage holder and founder of Vedika Global, former President of the California Association of Ayurveda Medicine and teaches at the California Institute of Integral Studies and complementary medicine symposiums at Stanford, UCLA, and UCSF. Acharya Shunya's latest book, "Ayurveda Lifestyle Wisdom" is a bestselling book on Amazon.com.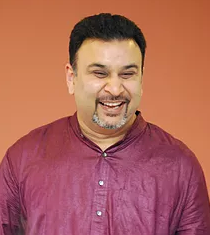 Chef Sanjai is the head of the Ayurveda cooking department at Vedika Global and serves on the Board of Vedika Global. He teaches over 200 original recipes inspired by ancient Ayurvedic source texts, based on the science of the healing potency and potential of the ingredients used in the healing Ayurvedic recipes.
A class loved by all:


I have severe arthritis. I am truly appreciative of learning about dry ginger and the impact on pain reduction. From watching this video, I was inspired to create a massage oil with Ginger powder, Turmeric and Sesame Oil. It has been a treat and extremely therapeutic. Over the course of a few weeks, I feel a reduction in stiffness and increased range of motion. The efficacy of this natural home remedy has proven to be more effective than prescription medication and ointments. - Sheila


Watching the video on Ginger gave me a clear understanding of the differences between fresh and dry ginger and how each one plays its role. Until then, I had just assumed they could be simply substituted for each other, but Acharya Shunya's explanations of the benefits of each has made me value each one on its own, and learn how to use them together as well. - Niramaya