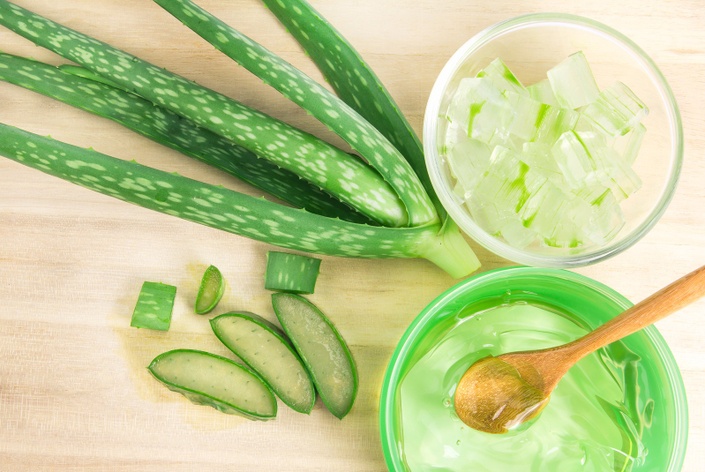 Aloe Vera
Love and Soothe Your Skin

Beauty Inside and Out With Aloe
---
Celebrate Aloe, the divine healer, in this class brimming with amazing, effective, traditional Ayurvedic wisdom taught in an experiential way by Acharya Shunya and Chef Sanjai.


Ayurveda has tremendous wisdom to share about Aloe's healing properties. By understanding its taste profile, special qualities and how they all come together, you will learn how Aloe is effective for detoxification, blood purification and enhancing fertility when used correctly.


A tradition worth carrying forward:
Acharya Shunya and Chef Sanjai teach us how to directly benefit from Aloe in home remedies and how to invite it into our cuisine. This beautifully evocative class, rich with traditional ancestral knowledge and detailed applications, invites us to connect more closely with Aloe.


Acharya Shunya's great grandfather Bade Baba and grandfather Baba were traditional vaidyas - healers, who lived and spread the knowledge of health and wellbeing to the people in their communities. At that time, India 's rural population faced many difficulties due to colonial rule and were impoverished economically. Baba would send his students to teach the villagers about locally growing herbs to awaken their health in simple yet profound ways. By sharing this ancestral wisdom in a community that wishes to awaken, embrace their right to be healthy and connect to nature's gifts, Acharya Shunya continues the tradition of her family.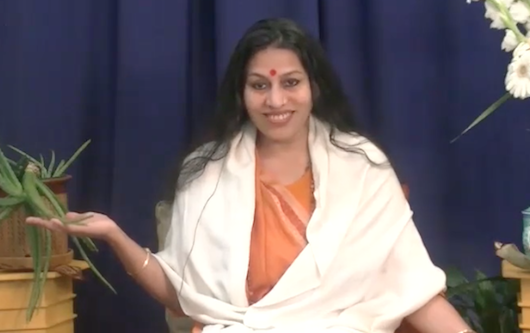 Acharya Shunya explains how Aloe's Sanskrit names 'maata', 'kanya', 'kumari, 'rasayani' indicate its abilities to nourish and rejuvenate, impart health and glow, counteract toxins and the effects of pollution. It is especially a great friend to women, helping them with through their hormonal changes, with benefits for the uterus, menstrual cycle and reproductive health. An antioxidant and anti-pyretic, a liver tonic, a purgative that works on removing blockages, and an anti-poison agent, it is truly a pharmacy.


When this plant is so easy to grow and readily accessible in most places, we can cultivate it ourselves and create a mutually beneficial relationship rather than depending on highly processed and packaged products.


The spiritual lessons and insights from Acharya Shunya's understanding and connection with nature enable us to see the deeper truth that these divine foods embody. Her gentle sense of humor enlivens the class and lends to the sense of ease with which she teaches.


Grow Your Own Medicine:
Growing these plants and contributing to their welfare and propagation leads to a closer connection and deeper healing of body, mind and consciousness. This is a move away from a consumerist culture where these plants and their parts are simply consumed without reverence or a thought for their future.

In depth knowledge about aloe, taught directly from sacred Ayurveda texts such as: Charaka Samhita, Bhavaprakash, Susrut Samhita.
A lively class, taught in a holistic and systematic manner, that effectively delivers a comprehensive understanding, led by best selling Ayurveda author, and Vedika Global wisdom school founder, Acharya Shunya.
Step-by-step, guided recipes, direct from ancient texts, tested and designed for contemporary living, demonstrated by our passionate Ayurveda Master Chef Sanjai.
A printable, practical in-home remedy and recipe guide, to add to your very own Ayurveda resource library.
Enhance Your Wellbeing Naturally With Aloe
Highlights of the class and what you will learn:

How to apply Aloe in home remedies such as:
Eye refresher: Learn to use Aloe to heal inflamed itchy eyes
Ear pain reliever: This amazing plant will give relief from ear pain and infections
Colic aid: Infants will benefit from a home remedy that soothes colicky pain
Hair conditioner: Did you know that Aloe can be used to promote hair growth, and that it can heal an itchy scalp and dandruff?
Beauty enhancing face packs: Dry, oily and acne-prone skin can benefit from applying aloe mixed with supporting herbs
Aloe is also consumed internally in recipes:
Learn to cook a guilt free dessert: This recipe will heal your liver, help you lose weight, purify your blood, and yes, it's a dessert!
Learn to make a thirst quencher that heals colitis: This aloe recipe has a balancing effect on digestion, mitigates toxicity, helps digestion and to lose excess weight
Put together a dry cough reliever: Aloe works on relieving the factors that cause dry cough
Enjoy the learning journey with a knowledge enhancing class format


Introduction (00:00:00)
Introduction to the Vedic ancestral lineage of Acharya Shunya (00:13:18)
Overview of Aloe Vera (00:18:20)
Ayurveda pharmacology of Aloe (00:27:39)
Method to obtain Aloe gel (00:44:33)
Discussion of benefits of Aloe (00:47:55)
External remedies using Aloe (00:50:55)
Skin remedies using Aloe (00:59:26)
Internal remedies using Aloe (01:05:37)
Headache and migraine remedies using Aloe (01:13:48)
Women's remedies using Aloe (01:19:36)
Constipation and hemorrhoid remedies using Aloe (01:28:25)
Facial remedies using Aloe (01:43:22)
Discussion of arthritis and bone benefits of Aloe (01:48:35)
Summary (01:50:09)
Q&A and feedback on class (01:52:57)
Caring for your Aloe plant (02:32:36)
Demonstration of Aloe candy recipe (02:40:52)
Demonstration of Aloe takra recipe (03:04:38)
Class closing (03:15:22)
Your Instructors
Benefit from ancient wisdom and years of authentic lived experiences by our teachers.

Experience an intimacy and deeply personal experience with the Aloe plant and our teachers. As a result of their deep wisdom, personal passions and embodiment of Ayurveda lifestyle, the delivery is authentic and from the heart, leaving you feeling connected to Mother Nature, her gifts of wellness and your own innate capacity to self-heal.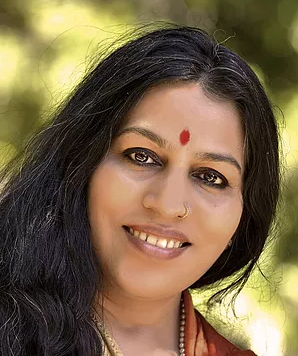 Acharya Shunya is an extraordinary teacher and author of the living wisdom of Ayurveda. She is a traditional Vedic lineage holder and founder of Vedika Global, former President of the California Association of Ayurveda Medicine and teaches at the California Institute of Integral Studies and complementary medicine symposiums at Stanford, UCLA, and UCSF. Acharya Shunya's latest book, "Ayurveda Lifestyle Wisdom" is a bestselling book on Amazon.com.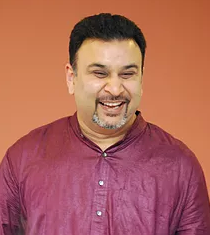 Chef Sanjai is the head of the Ayurveda cooking department at Vedika Global and serves on the Board of Vedika Global. He teaches over 200 original recipes inspired by ancient Ayurvedic source texts, based on the science of the healing potency and potential of the ingredients used in the healing Ayurvedic recipes.
A class loved by all:



Before watching this class, my knowledge of the uses of Aloe were limited to sunburn treatment. Since watching and learning the incredible internal and external benefits of Aloe, I have collected a number of Aloe plants and will incorporate use of this amazing 'mother/daughter' plant into my family's health care. Thank you for this great class Acharya Shunya!
- Kiran Melanie Birtchnell
Melbourne, Australia



Before taking this class on Aloe Vera, I never knew it could be eaten and that it had so many medicinal uses - from cuts and sunburns to liver disorders, earaches and sinus blockage. Being given such ancient recipes from plants and items in my kitchen to heal the body was a gift. I could feel the generations of wisdom that Shunya ji was passing down to us.
- Sakshi Joanne Banuelos
San Jose, CA