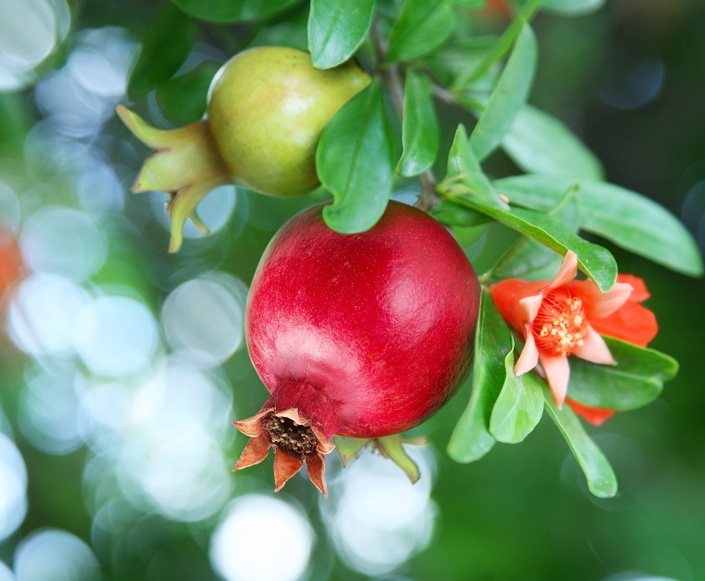 Pomegranate
Say Yes to Healthy Blood, Brain, Bones and Immunity

Pomegranate loves all of you!
---
All over the world, people have woken up to the amazing qualities of Pomegranate's fruit. There's a lot more to this amazing healer! Ayurveda has long known about the healing abilities of every part of this plant.


Being in touch with Pomegranate in some form, whether fruit, peel, leaf, bark or seed, every day is what Acharya Shunya's grandfather called 'Pomegranate Yoga'. Come, invite Pomegranate into your life in many creative and tasteful ways as you hear Acharya Shunya and Chef Sanjai share their rich traditional wisdom about its plentiful health benefits.


A tradition worth carrying forward:
Continuing to empower people in the tradition of health consciousness through connection with nature, self care, eating right, and therefore building health, Acharya Shunya and Chef Sanjai bring each class alive with history, wisdom and tasteful cooking.


Acharya Shunya's great grandfather Bade Baba and grandfather Baba were spiritual teachers, imparting the knowledge of a healthy lifestyle through Ayurveda, along with wisdom to realize our spiritual potential from the Vedas who lived and spread the knowledge of spirituality, health and wellbeing to the people in the local communities. At that time, India 's rural population faced many challenges due to colonial rule and were impoverished economically and culturally. Baba would send his students to teach the villagers about locally growing herbs to awaken their health in simple yet profound ways. By sharing this ancestral wisdom in a community that wishes to awaken, embrace their right to be healthy and connect to nature's gifts, Acharya Shunya continues the tradition of her family.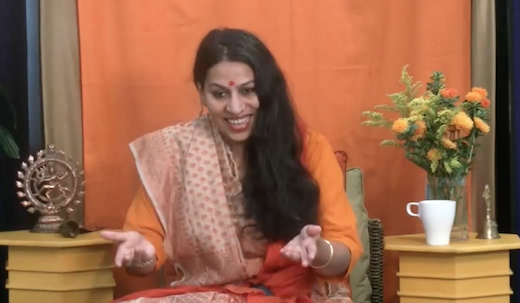 An antioxidant that nourishes the entire body system and major organs by giving fast-acting, high quality hydration, the pomegranate fruit is an elixir. It treats anemia and is immensely beneficial to the heart and its functions. The fruit is beneficial in Alzheimer's, memory retention, improving intelligence and giving strength and energy. Young or old, busy mother or a construction worker or convalescent, everyone can gain from this fruit.


A bouquet of astonishing healing properties, the sweet, sour and sweet-sour varieties of fruit are well understood by Ayurveda and used appropriately. They all have some common benefits, but some special properties too. For example, did you know that the sweet tasting fruit can soothe burning sensations in the body? This unique fruit is light to digest yet nourishing and unctuous. Many more such insights can be learned through this class.


There's more! Listen to this class where Acharya Shunya shares how the shade dried leaves, peel, bark, flowers are replete with medicinal powers. Skin diseases like psoriasis and eczema, stomach ulcers, infected wounds, bed sores, insomnia are just some of the areas that can benefit tremendously from the internal and external use of the leaves.



In depth knowledge about Pomegranate, taught directly from sacred Ayurveda texts such as: Charaka Samhita, Bhavaprakash, Susrut Samhita.
A lively class, taught in a holistic and systematic manner, that effectively delivers a comprehensive understanding, led by best selling Ayurveda author, and Vedika Global wisdom school founder, Acharya Shunya.
Step-by-step, guided recipes, direct from ancient texts, tested and designed for contemporary living, demonstrated by our passionate Ayurveda Master Chef Sanjai.
A printable, practical in-home remedy and recipe guide, to add to your very own Ayurveda resource library.
Enhance Your Wellbeing Naturally With Pomegranate
Highlights of the class and what you will learn:
Home Remedies:
Relief for inflamed red eyes: Learn to make a medicinal poultice to cool and heal eyes
Soothe a sore throat: Find out how to help a sore throat feel better
Calm sore muscles: Learn to cook a massage oil to relieve stressed muscles
Anti-diarrheal: Learn the exact recipe to all naturally control diarrhea!
Stop nose bleeds: Find out how you can use Pomegranate to effectively arrest nose bleeds and nausea
Digest that indigestion: Learn amazing ways to to get relief from indigestion and also support your digestive power
Cardiac tonic: Pomegranate is a blessing for the heart, hypertension and high blood pressure! Find out how this works.
Chef Sanjai, head of Vedika's unique Ayurvedic teaching kitchen, shows some delicious recipes with creative uses of pomegranate:
Pomegranate takra: Learn to make a special buttermilk recipe that heals diarrhea, IBS, and colitis
Carrots with pomegranate glaze: Enjoy a great side dish with oodles of tangy flavour, this versatile recipe can be made with other root vegetables too. Learn to put together a special spice mix makes is especially balancing for the Fall season.
Barley pilaf with pomegranate seeds: A hearty yet digestible dish that brings you the goodness of pomegranate in a colourful zesty combination with seasonal vegetables.
Enjoy the learning journey with a knowledge enhancing class format


Welcome and Introduction to Vedic Ancestral Lineage of Acharya Shunya
Introduction to Pomegranate (22:24)
Medicinal Qualities and Tastes of Pomegranate Fruit (32:43)
Effects of Pomegranate on Tissues of the Body (58:17)
Medicinal Uses of Pomegranate Leaves (1:15:44)
Medicinal Uses of Pomegranate Fruit Peel and Flowers (1:46:38)
Using Pomegranate for Specific Conditions (1:56:03)
Using Pomegranate for Beauty and Hair Health (2:16:23)
Growing and Developing a Relationship with Pomegranate Trees (2:22:21)
Demonstration of Pomegranate Glazed Carrots Recipe (2:26:40)
Demonstration of Warm Barley Salad with Pomegranate Recipe (2:38:38)
Your Instructors
Benefit from ancient wisdom and years of authentic lived experiences by our teachers.

Experience an intimacy and deeply personal experience with the Pomegranate plant and our teachers. As a result of their deep wisdom, personal passions and embodiment of Ayurveda lifestyle, the delivery is authentic and from the heart, leaving you feeling connected to Mother Nature, her gifts of wellness and your own innate capacity to self-heal.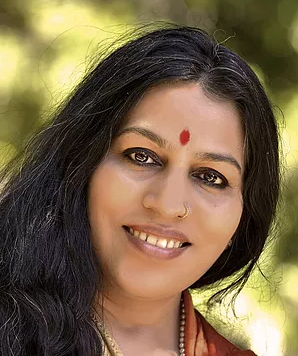 Acharya Shunya is an extraordinary teacher and author of the living wisdom of Ayurveda. She is a traditional Vedic lineage holder and founder of Vedika Global, former President of the California Association of Ayurveda Medicine and teaches at the California Institute of Integral Studies and complementary medicine symposiums at Stanford, UCLA, and UCSF. Acharya Shunya's latest book, "Ayurveda Lifestyle Wisdom" is a bestselling book on Amazon.com.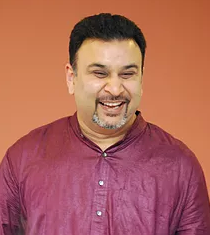 Chef Sanjai is the head of the Ayurveda cooking department at Vedika Global and serves on the Board of Vedika Global. He teaches over 200 original recipes inspired by ancient Ayurvedic source texts, based on the science of the healing potency and potential of the ingredients used in the healing Ayurvedic recipes.
A class loved by all:



Wow, pomegranate is truly a medicinal powerhouse food! Acharya Shunya's deep and thorough teachings on this nourishing yet purifying fruit based in both the ancestral Ayurvedic teachings as well as modern research covered every single part of the pomegranate fruit and tree, from ripe fruit to peel to bark to root. After watching this class, I feel inspired to incorporate pomegranate more consistently into my life to enhance overall wellness, as well as to use it for more specific health concerns as needed. I also am equipped with knowledge on appropriate doses, seasonal considerations, and internal and topical application options. It's really an amazing class, and will likely benefit just about anyone.
- Karuna
Grass Valley, CA



The AAT program is presented with so much love and ceremony and experiential opportunities that it inspires faith, hope and enthusiasm. Healing is a natural by product. I have personally benefited from the teachings on Pomegranate. I boiled the rind in four cups of water down to 1 cup and applied the concoction on an unsightly inflamed pustule on my nose by the right eye and it was gone the next day. There was just a little reddish mark it its place which with continued application was also gone in another day. Thank you for this gift.
- Sukhdeep Kaur
Emeryville, CA