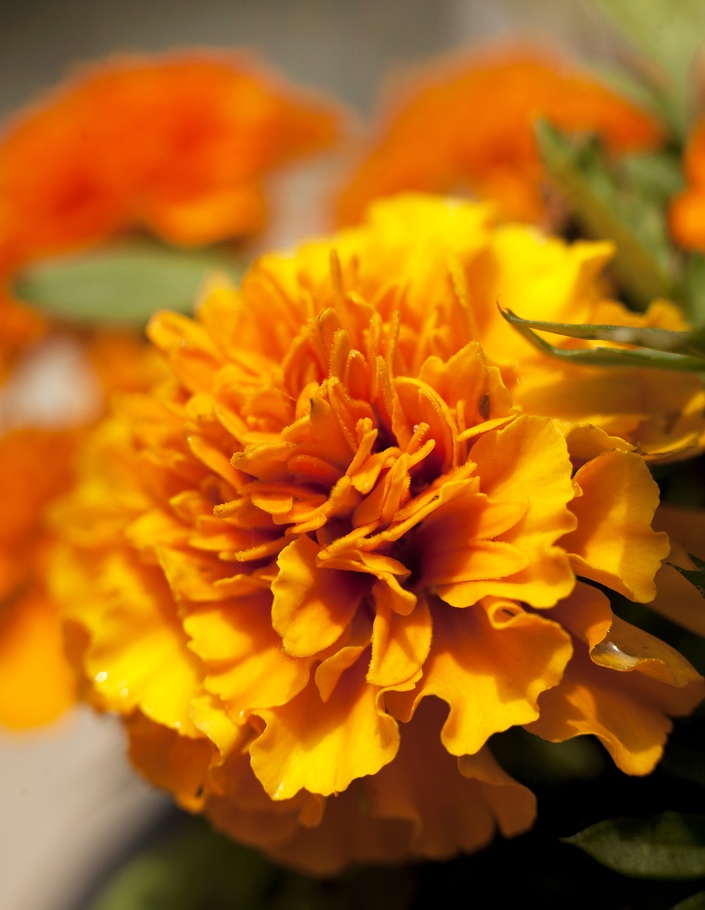 Marigold
Uplift Your Spirit and Five Senses

Radiating beauty with Marigold
---
A poet has said that Nature smiles in flowers. Marigold (Tagetes erectus) is indeed a flower that radiates the smile of the Sun with its golden yellow hue. With its sacred and spiritual vibrations, this is a flower to invite and grow, to adorn the divine and ourselves. A natural cosmetic par excellence, it benefits us in so many ways by enhancing beauty inside and outside. It imparts a radiant glow to the skin, cleansing and purifying while its aroma uplifts and clarifies the mind. It is greatly valued in various home remedies, ceremonies and rituals.

A Tradition Worth Carrying Forward:
Acharya Shunya and Chef Sanjai have revealed this amazing flower's cornucopia in this beautifully evocative class, rich with traditional ancestral knowledge and detailed applications. Acharya Shunya's great grandfather Bade Baba and grandfather Baba were traditional vaidyas - healers, who lived and spread the knowledge of health and wellbeing to the people in their communities. At that time, India 's rural population faced many difficulties due to colonial rule and were impoverished economically. Baba would send his students to teach the villagers about locally growing herbs to awaken their health in simple yet profound ways. He advised the people to wear garlands of marigold to feel uplifted, hopeful and come out of their depression. By sharing this ancestral wisdom in a community that wishes to awaken, embrace their right to be healthy and connect to nature's gifts, Acharya Shunya continues the tradition of her family.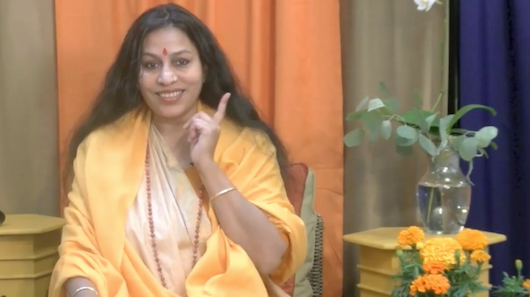 Accessible to the common man and the elite alike, the marigold is a treasure trove of healing abilities. Acharya Shunya elucidates the Ayurvedic pharmacological properties of marigold to explain its varied uses. Did you know that its leaves are potent healing medicine too? The spiritual lessons and insights from her understanding and connection with nature enable us to see the deeper truth that these divine herbs embody. Her gentle sense of humor enlivens the class and lends to the sense of the ease with which she teaches.



In depth knowledge about Marigold, taught directly from sacred Ayurveda texts such as: Charaka Samhita, Bhavaprakash, Susrut Samhita.
A lively class, taught in a holistic and systematic manner, that effectively delivers a comprehensive understanding, led by best selling Ayurveda author, and Vedika Global wisdom school founder, Acharya Shunya.
Step-by-step, guided recipes, direct from ancient texts, tested and designed for contemporary living, demonstrated by our passionate Ayurveda Master Chef Sanjai.
A printable, practical in-home remedy and recipe guide, to add to your very own Ayurveda resource library.
Enhance your wellbeing naturally with Marigold
Highlights of the class and what you will learn:
A medicine for all 5 senses: Use the leaf and fresh flowers in specific ways for specific benefit to the ears, eyes, nose, mouth and skin.
Healthy gums and teeth: Give your painful swollen gums, mouth sores, and tooth pain relief from Marigold home remedies that gently heal at the very root by overcoming infection.
Radiance enhancing face masks for different types of skins: Marigolds mixed with different kitchen ingredients become amazing face masks for dry, oily and combination skin - gift yourself a marigold pause in a busy life by a leisurely application of a face mask. Support your beauty to radiate from deeper than skin level.
Remedies for women: Enlist marigold to heal breast mastitis, muscle knots, excessive menstrual bleeding.
Check out Marigold infusion recipes for anti-infammatory, blood purifying, cooling, wound healing benefits: Make tea with marigold for its anti-inflammatory, blood purifying, cooling, wound healing properties to pacify ulcers, and liver health.
Relief for hemorrhoids: Treat hemorrhoids with a marigold sitz bath
In addition, learn to make and use marigold juice and ointment for myriad uses.
Enjoy the learning journey with a knowledge enhancing class format


Welcome and Introduction to the Vedic Ancestral Lineage of Acharya Shunya
Overview of Marigold's Cultural and Spiritual Significance (9:18)
Overview of Medicinal Attributes of Marigold in Ayurveda (23:00)
Discussion of Home Remedies for the Five Senses (29:21)
Demonstration of Oily Face Mask (47:15)
Demonstration of Dry Face Mask (56:31)
Demonstration of Combination Face Mask (59:45)
Q+A and Reflections on Face Masks (1:03:30)
Discussion of Marigold for Women's Health and Digestion (1:18:30)
Review of Internal and External Preparation Methods (1:30:57)
Gardening Instructions and Food Preparation Ideas (1:44:15)
Closing (1:49:08)
Your Instructors
Benefit from ancient wisdom and years of authentic lived experiences by our teachers.

Experience an intimacy and deeply personal experience with the Marigold plant and our teachers. As a result of their deep wisdom, personal passions and embodiment of Ayurveda lifestyle, the delivery is authentic and from the heart, leaving you feeling connected to Mother Nature, her gifts of wellness and your own innate capacity to self-heal.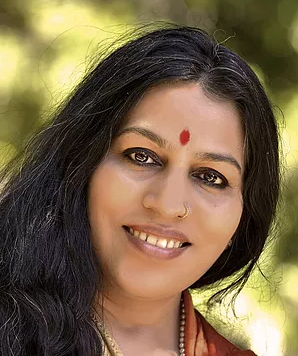 Acharya Shunya is an extraordinary teacher and author of the living wisdom of Ayurveda. She is a traditional Vedic lineage holder and founder of Vedika Global, former President of the California Association of Ayurveda Medicine and teaches at the California Institute of Integral Studies and complementary medicine symposiums at Stanford, UCLA, and UCSF. Acharya Shunya's latest book, "Ayurveda Lifestyle Wisdom" is a bestselling book on Amazon.com.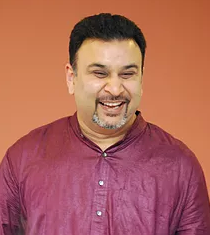 Chef Sanjai is the head of the Ayurveda cooking department at Vedika Global and serves on the Board of Vedika Global. He teaches over 200 original recipes inspired by ancient Ayurvedic source texts, based on the science of the healing potency and potential of the ingredients used in the healing Ayurvedic recipes.
A class loved by all:



A flower with cultural, spiritual and medicinal significance, marigold offers us support for all of our senses (eyes, ears, nose, mouth, skin). Acharya Shunya's unique lineage teachings on this unassuming flower present us with not only practical remedies for inflammatory conditions, skin issues, and women's health concerns, but also bring to light the deeper stories of marigold's role in empowering a people who had all but lost their medicinal heritage. This class is a truly inspiring opportunity to sit with a teacher who is weaving the threads of ancestral traditions into the modern day context.
- Karuna Kayaleya Bonnette
Grass Valley, CA



Acharya Shunya has a unique and beautiful way of bringing to life the power and potential of marigold flowers in a way that touches your heart while helping you activate your health from within. I was particularly touched when she shared in the class about how she had received a marigold garland from her own teacher on the day her mother died, and how wearing it in the following days helped her to cope with grief during childhood. I have also experienced the healing power of marigolds when experiencing sadness. Marigolds imbue us with a quality called Sattva, or clarity, optimism and cheerfulness. At a practical level, marigolds are a medicine for all of your five senses - I loved learning from this class fantastic recipes that I've now used many times and truly work wonders for combination skin like mine! Marigolds are an amazing gift from Mother Nature, and I am so grateful to Acharya Shunya for making them come to life as the beautiful spiritual flower they are.
- Ananta Ripa Ajmera
Dublin, CA